BAGGED PRODUCTS
Premium Enriched Potting Mix – 30lt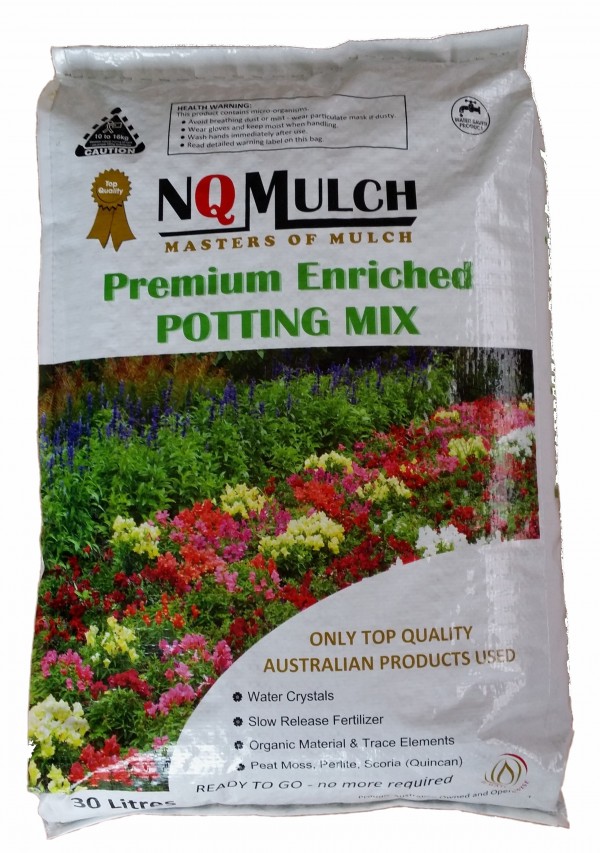 Tea Tree – 40lt
Hard Woodchip – 40lt
Cypress Pine – 40lt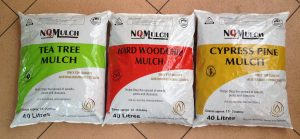 BULK
Tea Tree Mulch
Hard Woodchip
Cypress Pine Chip
Premium Potting Mix
Hardwood Saw-Dust
*** NEW ***
HARDWOOD SAW-DUST
This new product is a beautiful rich red colour and looks fantastic.
Tested and approved for chicken farms.
Ideal for stables and work yards.
PRODUCT INFORMATION
Premium Enriched Potting Mix
NEW BAG DESIGN – 30lt
A specially selected blend of quality ingredients chosen to maximise potting success and usability.
Materials used in the potting mix are all pure and clean products.  There is absolutely no recycled mulch from garden waste or cyclone debris. This will help stop the spread of pests
and diseases.
Premium Enriched – Contains: peat moss / water crystals / perlite / slow release fertilizer / organic materials /  scoria
All natural raw materials
Tea Tree
Beautiful rich brown colour, with a strong sweet aroma.
This product has been used and approved by the Qld Forestry Dept. because of the extreme heat process it goes through, which kills potential pests and diseases.
Fine-cut mulch
Hard Woodchip
Very long lasting
Red in appearance
Good coverage
Coarse-cut mulch
Cypress Pine
Naturally Termite Resistant
A rich golden brown colour
Medium to coarse-cut mulch
Pleasant aroma
Wood Shavings
A clean product excellent for horse stables, chicken coops and guinea pig hutches etc.
Sourced from sustainable local Caribbean Pine logs which are free from contaminates.
Available in our 'Boot Bag' (chaff bag size) and Bulka Bag
BULKA BAGS
*** NB: Most of our products are also available in Bulka Bags ***
Bulka bags, also known as FIBC (Flexible Intermediate Bulk Container) or bulk bags, are made from polypropylene, and are large lightweight bags capable of holding 1m³ or 1 tonne. They can be handled by crane, Hyab, forklift, or even helicopter are suitable for onsite crane or forklift use for the ease of relocation of bulk products saving you money and time and they are perfect for awkward or restricted areas.
** Please contact us via phone or email to discuss orders
We can also supply:
Sands & Soils
Garden mixes